Absolute Mediation and Divorce
Absolute Mediation was developed to provide a new and versatile approach to family law and divorce problems. In particular we can provide genuine initial choice and information for you to consider either family mediation options, or alternatively, for most of our clients, the traditional and established family solicitor route in respect of divorce, breakdown of relationship or legal probems concerning child care law or contact.
We also aim to respond to all enquiries within 24 hours and offer you an initial consultation without obligation.
We concentrate on family law issues including divorce, separation,children matters (both private law and public law with cases against the Local Authority) pre-marital agreements, finances,civil-partnerships, domestic violence remedies, special guardianship and schemes to assist in respect of securing potential funding.
We also believe it is always cost effective to seek advice and information at an early stage to achieve both an early cost effective, professional evaluation of matters and to secure peace of mind.
Jane Williams
Jane Williams qualified as a Solicitor in 1987 after attending the College of Law in Chester. She also has a Masters degree in Media Studies from the Cardiff School of Journalism.
Based as a solicitor in Penarth for several years, Jane formally practised from 1989 until 2010, as the Litigation and Family law Partner in a large South Wales Solicitors Practice in Cardiff and Pontypridd.
Jane is an Advanced Accredited Expert Specialist Solicitor on the Law Society Panel. Formal Accreditation now involves rigorous academic and practical examination to demonstrate proven excellence in Family Law.
Few Family solicitors in the self described "niche" family practices in Cardiff are accredited on that panel, despite frequently offering fiercely high charging rates for their self-proclaimed individual expertise. It is always wise to consult Find A Solicitor on the Law Society Website www.lawsociety.org.uk for guidance and full professional information, to make a well informed choice.
Jane is based in the recently completed and highly prestigious Charles House, Churchill Way, Suite of offices designed by Sinclairslaw in Cardiff Town Centre adjacent to the Landmark Place development and indeed in very close proximity to Queen Street Train Station. The full address is Charles House, Churchill Way, Cardiff CF10 2DY. Our offices have been purposely built as the office headquarters and indeed flagship of the company, and our stated aim is to ensure exemplary standards of both comfort, professionalism and indeed security to all existing and prospective clients. Our supporting offices range over Twickenham, London and Penarth.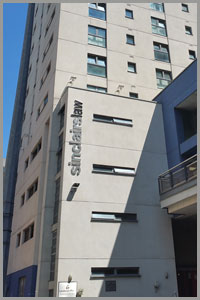 Absolute Mediation has been established to help promote solicitor- based family law in conjunction with Sinclairslaw, who are the premier education specialists for Children Law in the country.
An extremely versatile solicitor and Law Society accredited panel member in family law and mediation, Jane has over 25 years experience as a solicitor and daily advocacy experience in the family courts, as well as being one of the handful of Law Society advanced accredited family law specialists in Wales.
She is also a Resolution solicitor member and accredited mediator and as such, is committed to the Resolution code of conduct, in initially dealing with matters in a non aggressive, and indeed non adversarial manner. The code defines trying to avoid escalating legal costs and unnecessary distress, with the aim of promoting fair, equitable and amicable settlements at ideally, an early stage, in final relationship breakdown.
We recommend you contact us an an early stage for an expert evaluation with a view to progessing matters in a well advised and cost effective manner which avoids both acrimony and indeed excessive emotional and financial cost.
Read more about Jane Williams on The Good Lawyer Guide: Click Here